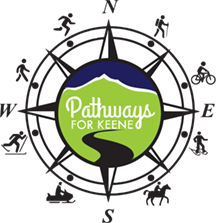 Pathways for Keene, Inc. is a non-profit, 501c(3), volunteer organization dedicated to the expansion of bicycle and pedestrian pathways for the citizens of Keene, NH, and visitors to our city.
We are actively fundraising to complete the Transportation Heritage Trail (Cheshire Rail Trail) from Eastern Ave. to Route 101, install the Prowse Bridge across Route 101 to the Stone Arch Bridge, and improve the Stone Arch Bridge itself.
If you would like to get involved or have questions about PFK, email us!