Register here for the 20th Annual 4 on the Fourth Race!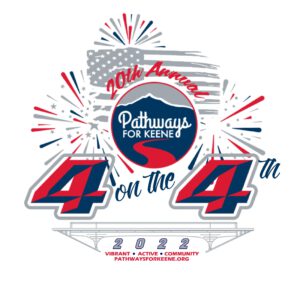 PFK (Pathways for Keene, Inc.) is a non-profit, 501C(3), group of volunteers that promotes the development, maintenance, and use of alternative transportation in the City of Keene, NH.
Incorporated in July 1994, PFK is governed by an elected Board of Directors (PFK Board) comprised of men and women from a cross-section of the community. The PFK Board is independent of City of Keene, State of New Hampshire and local business self-interests. It elects corporate officers to administer the affairs of the organization.
As of 2020, PFK has raised over $630,000 for trail development for bicyclists, runners, walkers, skiers and snowshoers, and other non-motorized forms of recreation and transportation throughout all of Keene.
The current primary goal for PFK is the completion of the Transportation Heritage Trail (Cheshire Rail Trail South) from Eastern Ave. to Route 101, the installation of the Prowse Bridge across Route 101 to the Stone Arch Bridge, and improvements to the Stone Arch Bridge itself. After completing these pivotal projects, PFK will continue to advocate and fundraise for further expansion of the local trail network and projects related to trail use.
In the past, PFK worked with other organizations to generate grassroots momentum for the development of the pathways system. PFK will continue working with a diverse collection of organizations in the future to focus the further development, use, maintenance, and enhancement of a pathways system that meets the needs of Keene residents and visitors.