Pearl Street Project
There is a longtime involvement by the Keene Elm City Rotary Club to enhance the Downtown Cheshire Trail.
In 1998, the club was given permission by the City of Keene to "adopt" some undeveloped land (at the intersection of the Downtown Cheshire Trail and Pearl Street) to create a pedestrian park.
The club cleared, planted, placed benches and then maintained the area.
In 2000 they added a split rail fence.
In 2002 they built retaining walls, planter beds, and added a shade tree for the benches in a three-day effort.
In 2002-2002 they plan to continued their landscaping and maintenance of the park.
This project demonstrates the commitment that the community has to the enhancement and use of the pathway system throughout the City of Keene.
Renovation (looking south)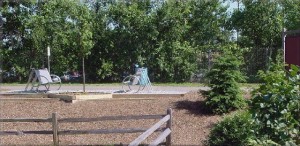 Renovation (looking east)